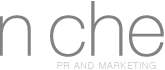 As interior designers, your greatest asset is that you can visualise a space.

niche

's asset is getting your design across to the wider audience. To have an informal chat about PR to raise the profile of your interior design company please complete the form below.


Please note that

niche

's telephone and mailing address are withheld on this site to better manage enquiries and eliminate unsolicited emails and telephone calls.


Hugh Jamieson
- Principal Designer and Founder of At Home Interior Design Consultants